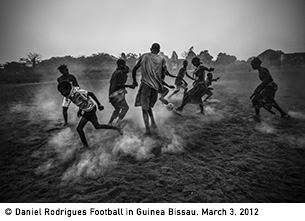 This is what people are saying about WHO SHOT SPORTS: A Photographic History 1845 to the Present by Gail Buckland
"Dazzling . . . Brilliant . . . Who Shot Sports offers a chance to show sports photographers some penitent tribute."—Peter Schjeldahl, The New Yorker

"Who is the operative word in the title of this wonderful book on sports photography that serves as a tribute to sports photographers everywhere…Buckland keeps a steady focus on the people behind the camera…Buckland writes with such authority that her thoughts on photography, as an art form, and her analysis of individual images in and out of the sports context make this a must-read for pop culture enthusiasts and anyone interested in photography." —Publishers Weekly

""Race to the Brooklyn Museum to witness Gail Buckland's Olympian exhibition "Who Shot Sports: A Photographic History, 1843 to the Present". It is the best show in town, and I am its biggest fan."" —W.M. Hunt, L'Oeil de la photographie

"Part of the canniness of the show is its defining sports so broadly. It's not only what happens on the field or court or track. It's also venues, spectators, and spectacle generally. So sports doesn't just mean Robert Riger's view of Johnny Unitas just poised to release a pass; if the composition were any more frieze-like, the British Museum could put it next to the Elgin Marbles. It's also Erich Andres's wonderfully unexpected view of fans' footwear at the 1936 Winter Olympics or Jim Dow's panoramic view of an empty Astrodome, shown in all its creepy grandeur." "Who Shot Sports" is as eclectic athletically as it is aesthetically." —Mark Feeney, Boston Globe

"A sumptuous study . . . A glorious journey across time and space, bringing us around the world with style and grace . . . Buckland has selected works that showcase the power of photography to fleeting moments that can make or break the game . . . Who Shot Sports is not simply the greatest moments of the game, but a brilliantly curated effort to recreate the multiple sensations of competition as well . . . Buckland has used her wealth of knowledge to craft a singular volume that has been long missing."—Miss Rosen, Crave

"Superb anthology of sports photographs, coupled with an illuminating text…This is a collection of superlatives, with both subjects and artists in the finest of forms...Essential for all student of sports history and photography and a fine gift…" —Starred review in Kirkus, May 3, 2016
More Press for WHO SHOT SPORTS

Who Shot Sports: A Photographic History The Unseen Eye meets a champion —L'Oeil de la photographie
New Book And Traveling Exhibition Celebrate Over 170 Years Of The World's Best Sports Photographs —Forbes
Book Review: Who Shot Sports —Chronogram
Treating Sports Photographers as the Artists They Are —New York Times
Alma Thomas's Late Blooms —New Yorker
Nearly 200 Years of Incredible Sporting Photographs —BBC
The Art of Sports Photography —CBS Evening News
'Who Shot Sports'? The Brooklyn Museum has a lot of answers. —Boston Globe
WHO SHOT SPORTS: A Photographic History, 1843 to the Present —Washington Post Book Reviews
Exhibit of the Week, Who Shot Sports: A Photographic History, 1843 to the Present —The Week
Three to See: New York —The Art Newspaper
New photography book to accompany blockbuster Brooklyn Museum exhibition 'Who Shot Sports' —The Brooklyn Daily Eagle
New Book And Traveling Exhibition Celebrate Over 170 Years Of The World's Best Sports Photographs —Forbes
The Case for Sports Photography as Art —Signature
See "Who Shot Sports" in a Stunning New Book & Exhibition —Crave Online
Get up close to LeBron, Serena and other sports greats in Brooklyn —NY Post
Brooklyn Museum 'Who Shot Sports' exhibit gives historic look at photographers 1843 to present day —am New York
"Who Shot Sports: A Photographic History, 1843 to the Present" at the Brooklyn Museum —Blouin Art Info
The Shot: The Height of Extreme Skiing —Mark Fisher
The Selects: More From 'Who Shot Sports'
Athletes on the Field and in the Moment —New York Times Lens Blog
Masters of the Moment —Wall Street Journal
Brooklyn Museum Exhibit Reveals the Wide World of Sports Photography —Wall Street Journal
They Shoot, They Score: Winning Examples of Sports Photojournalism —NY Observer
Imprese Sportive e Fisici Scolpiti —Corriere Style Magazine
Exhibitions: A History of Sports Photography, At Last —Pro Photo Daily
Q&A with Gail Buckland —Deborah Kalb Books
Press Links
Who Shot Rock and Roll:
A Photographic History,
1955 to the Present:
motherjones.com
American Photo, Nov-Dec 2009
Praise for WHO SHOT ROCK AND ROLL

"I love this book, and not merely for the uniformly excellent and often unexpected photographs Ms. Buckland has chosen ...I love it, too, for Ms. Buckland's witty, moving and sometimes acerbic prose... Whatever Gail Buckland writes, I want to read."—Dwight Garner,The New York Times
"The care with which Buckland selects representative photographers and their most significant images is matched by her interpretive prowess…Buckland carefully but deliberately argues that the art of rock photography has been sacrificed to the paparazzi and the corporate art departments. In light of this inclusive, heady and visceral collection of the genre's best, it would be hard to argue otherwise."—Publishers Weekly
"…The exhibition [Who Shot Rock and Roll] reminds us that in addition to the words, the music and their perpetrators, the popularity of rock 'n' roll (be it punk, No Wave or hip-hop) owes something to photography. Just how much it owes should be indicated by this exhibition of nearly 200 images by more than 100 photographers, organized with Gail Buckland, a photography curator and historian.…she illuminates a complex history as well as a collaboration of music and image fraught with all kinds of interesting issues about that wild thing called pop culture." —Roberta Smith, The New York Times
"Rock 'n' roll isn't just a sound. It's a look. What stars wear, how they hold their bodies, what they project with their eyes, creates a style with as much movement and meaning as the music itself. A great rock 'n' roll photograph freezes that for all time. Yet seldom do such shots get the display they deserve. A bracing corrective will arrive on Oct. 29, when the Brooklyn Museum opens its show "Who Shot Rock 'n' Roll," one of the largest, most serious—and also most fun—displays of rock photography ever presented." —Jim Farber, The Daily News
"…Buckland presents a very appealing collection of photography associated with rock and, doing so, spotlights the photographers who did so much, however inadvertently, to transform a genre of pop music that might originally have been a mode of adolescent rebellion into a marketing tool and a lifestyle model… … An impressive picture book."—Mike Tribby, Booklist
"…Blessedly, she [Buckland] makes no attempt to inflate celebrity portraiture into High Art… the line-up of photographers is anything but the usual suspects. Yes, we find Jim Marshall, Lynn Goldsmith and David Gahr but also Dennis Hopper, Andreas Gursky, Ari Marcopolous and others not solidly embedded in rock culture."—Richard B. Woodward, The Wall Street Journal, selected as one of the best gift books of the year.
"This collection of photographs captures the magic of music and musicians. Here they are in all their glory and excess. These mostly black and white shots preserve flashes of charisma, excess, mystique, sensuality and doom. Here's Jimi Hendrix in full trance. Belligerent Johnny Cash salutes his audience. Bjork wears nothing but well-placed leaves."—Vick Mickunas, The Miami Herald
"… Who Shot Rock & Roll will leave you breathless…What makes these photos so phenomenal is how they capture the energy of a singular moment…and the fashions and aesthetic norms of various eras...how they provide a solid sense of time and place…It's the type of book you'll want to keep forever, as dear as your very own family photo album."—Sicka than Average website, November 9, 2009
"From The Clash's Paul Simonon slamming his guitar onto a New York stage to Bob Dylan smoking a cigarette in his limo while a throng of screaming fans pound on the window, some of the most memorable moments in rock 'n' roll aren't the ones you can play on your iPod."—Rebecca Davis, Nylon magazine
"…Though in essence a book of photography, Buckland's work is well written, well researched and well noted. There is no skimping of deeper meanings… Hours upon hours can be spent staring back at the images on these pages. Some are haunting; others are hypnotic. Syd Barrett? Debbie Harry? Wilson Pickett? Ike Turner? The Yardbirds? The B-52s? It can be impossible to put down. In fact, it is."—Phillip Tutor, The Anniston Star